Award Nutri-Pro (8-0-12 +2%Fe +3%MgO +5.9%Ca +Rootbooster +Te +Lignite +Amino Acids)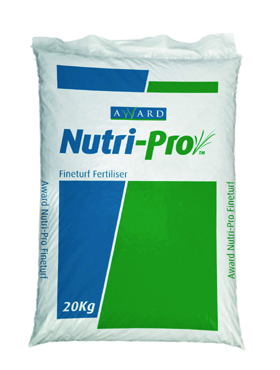 The Nutri-Pro fineturf range contains a combination of conventional release fertiliser with the addition of amino acids, trace elements and the unique Bovey Basin Lignite. The homogeneous 1-2mm micro-granules each contain the same analysis, providing a uniform application and result.
Advanced longevity and colour
Increased nutrient performance
Improved stress resistance and aids recovery
Contains the necessary trace elements for healthy turf
Prevents trace element deficiency
Improved chlorophyll concentration leading to improved photosynthesis
Will not produce growth flushes when applied
Dust-free micro-granules for an accurate application

8-0-12 benefits:-
A micro granular fineturf fertiliser which can be used during periods of cooler temperatures and throughout the growing season.
This fertiliser is the first fertiliser to include ROOTBOOSTER designed to energise and improve shoot, rootmass and length. The humic acid in the formulation will stimulate microbial activity and help increase the plants stress tolerance.
The added Lignite will increase the Cation Exchange Capacity (CEC) ensuring nutrients are held longer in the soil making the fertiliser last longer. The naturally occurring Humic and Fulvic acids give support for microbial activity.
Contains ROOTBOOSTER to improve root and shoot development
Will help stimulate microbial activity to help increase the plants stress tolerance
Iron, magnesium & lignite combination gives a quick green up over a longer period
Can be used when the grass is growing
Amino acids provide a quicker plant response in the early season
Will help the plant better cope with the stress of summer play

Size: 20kg
Application Rate: 30 - 35 gms/m²
Pack Coverage: 571 - 666 m²
82% Ammonical Nitrogen
18% Ureic Nitrogen
Kg of Nitrogen@35g: 28 per Ha
Kg of Nitrogen@35g: 0 per Ha
Kg of Potassium@35g: 42 per Ha