Award Ultima (14-2-8+2%Fe+3%MgO)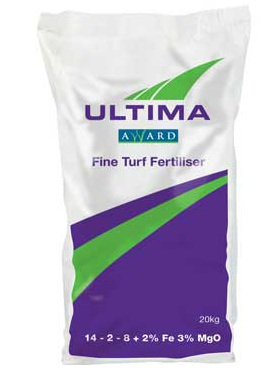 A unique organic and mineral nutrient complex, it is both cost effective and environmentally superior to competing fertilisers. Ultima comprises of a unique four-tier nitrogen combination. The main tier uses a unique soya bean based organic complex. This will build soil nutrient retention capacity, boost the soil microbiology promoting nutrient exchange and break down of thatch. The design of the other nitrogens used in the complex will provide an even, steady growth over an extended period and will ensure a quick response in cool conditions. The granulation uses fired ceramic zeolite which has a denser structure when compared to other standard zeolites. Resulting in a greater internal surface area, increased capillary store and release factors for higher CEC giving a longer nutrient release pattern.
A balanced spring and summer formulation with added iron and magnesium. This analysis can be used where phosphate is required for root development. The iron and magnesium will aid turf hardness as well as vastly improving the turf colour.
Size: 20kg
Application Rate: 25 - 35 gms/m²
Pack Coverage: 571 - 800 m²
Kg of Nitrogen: 42 per Ha
Kg of Nitrogen: 6 per Ha
Kg of Potassium: 24 per Ha