Award Nutri-Pro Outfield (16-2-10 +2%Fe)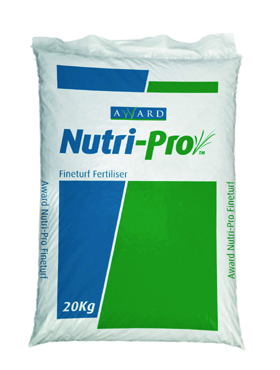 The Nutri-Pro Outfield Range is available in a homogeneous granule 2.5 - 3.5mm for an easy dust-free application. This range is ideally suited to any type of outfield situation.
Reliable and uniform performance
All contain balanced NPK formulations
Two conventional release analysis
One controlled release spring and summer analysis
Will produce a good colour with rapid nutrient uptake
Dust-free homogeneous granule for an accurate application
16-2-10 benefits:-
An outfield fertiliser for spring and summer use with the added benefit of Methylene Urea. This provides a steady release of nitrogen with a reduction in growth flush and also helps reduce the amount of nitrogen leached.
The dust free granule is a true compound granule designed to give an even distribution on application.
Added iron in the formulation will help give the sward a good colour.
The fertiliser will give an extended release of up to 11 weeks.
Provides extended release of up to 3 months
Contains slow release Methylene Urea
Added iron ensures optimal turf colour
Size: 20Kg
Application Rate: 35 gms/m²
Pack Coverage: 571 m²
Kg of Nitrogen: 56 per Ha
Kg of Phosphate: 7 per Ha
Kg of Potassium: 35 per Ha