Award Nutri-Pro Outfield (5-12-12)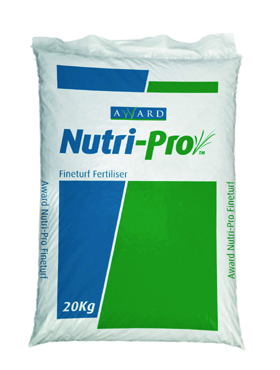 The Nutri-Pro Outfield Range is available in a homogeneous granule 2.5 - 3.5mm for an easy dust-free application. This range is ideally suited to any type of outfield situation.
Reliable and uniform performance
All contain balanced NPK formulations
Two conventional release analysis
One controlled release spring and summer analysis
Will produce a good colour with rapid nutrient uptake
Dust-free homogeneous granule for an accurate application
5-12-12 benefits:-
An analysis for use in the autumn and winter with high levels of phosphate and potassium. This will help promote a hardy plant with good root growth, the low levels of nitrogen will help plant recovery during periods of heavy wear when little growth is available during colder temperatures. This analysis will also make an ideal pre-seeding fertiliser.
Provides strong healthy growth for heavy winter use
An ideal pre-seeding fertiliser
Aids recovery during periods of heavy wear and colder temperatures
Size: 20Kg
Application Rate: 35 gms/m²
Pack Coverage: 571 m²
Kg of Nitrogen: 17.5 per Ha
Kg of Phosphate: 42 per Ha
Kg of Potassium: 42 per Ha