Award Surf To Turf (23-0-0)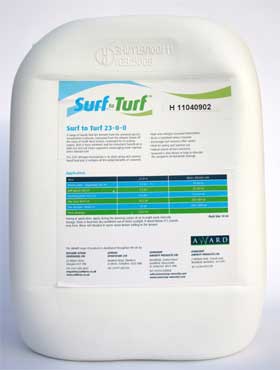 Surf To Turf liquids are extracts from the seaweed species Ascpphyllum nodosum, harvested from the Atlantic Ocean off South West Ireland. This area is renowned for its pristine waters. Seaweed is rich in natural organic comnpounds, which help turf plants in a number of ways. These include stimulate rooting and compact top growth, thickening and strenghtening cell membranes increasing wear and drought resistance.
A high urea nitrogen and seaweed feed. Rich in trace elements and plant growth stimulants.
Sustained colour response
Turf more tolerant to stress
Increased microbial activity
Size: 10Ltr
Pack Coverage:2222 m²
Amount of Product Required:45 Ltr/Ha
Water Volume Required:500 - 1000 Ltr/Ha
Kg of Nitrogen: 10.35 per Ha
Kg of Phosphate: 0 per Ha
Kg of Potassium: 0.68 per Ha