Bayer Dedicate (MAPP 17003)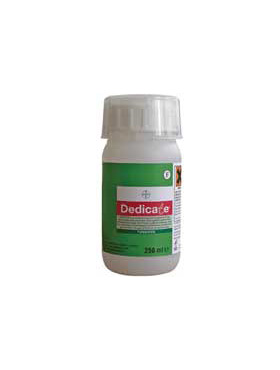 DEDICATE® is a contact and systemic turf fungicide which both cures and prevents Fusarium Patch (Microdochium nivale), Red Thread (Laetisaria fuciformis), Dollar Spot (Sclerotinia homoeocarpa), Anthracnose (Colletotrichum graminicola) Leaf Spot and Rust (Puccinia cynodontis) in managed amenity turf, at any time of year.
DEDICATE® may be applied to turf areas which include golf courses, institutional, commercial and residential lawns, sports fields, parks, bowls and cricket pitches, municipal grounds and cemeteries.
Nozzles:- ISO White 08F110 WH for knapsacks or power sprayers. ISO White DT 4.0 alternatively for knapsacks.
Contains 200g/lt (18.2% w/w) Tebuconazole and 100g/lt (9.10% w/w) Trifloxystrobin
Features:-
Contact and systemic
Fast, long lasting and rainfast within 1 hour
Controls anthracnose
Can use in a knapsack
Max No. of applications per year - 4
Size: 250ml
Pack Coverage: 2500 m²
Amount of Product Required: 1 Ltr/Ha
Water Volume Required: 400 - 500 Ltr/Ha
Note: It is your responsibility to ensure that any pesticide product for Professional use is used according to the Approved Code of Practice and that all operators are trained and certified in its use.
Product registered for Professional use in UK only.
ALWAYS READ THE LABEL. USE PESTICIDES SAFELY.