Bayer Interface (MAPP 16060)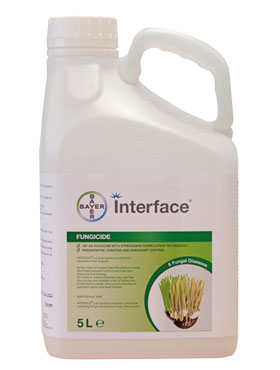 Interface™ is Bayers first turf fungicide with StressGard™ Formulation Technology.
The formulation has been specifically designed for turf and has been fine tuned to upgrade the performance of the product, providing superior disease control leading to visibly healthier turf.
Controls six diseases: Fusarium Patch, Anthracnose, Dollar Spot, Leaf Spot, Red Thread & Rust
During the spring/summer/autumn when turf is actively growing; during the winter
when turf is slow growing or near dormant or at times of increased disease stress
For best results apply just before or at the first signs of disease to prevent scarring
Contains: Iprodione 256 g/ltr, Trifloxystrobin 16 g/ltr

Features:
Contact & Meseostemic action
Works at all stages of disease attack
Use at any time of year
Rainfastness 1 hour
Max No. of applications per year - 4
Size: 5 Ltr
Pack Coverage: 5000 m²
Amount of Product Required: 10 Ltr/Ha
Water Volume Required: 400 - 600 Ltr/Ha
Note: It is your responsibility to ensure that any pesticide product for Professional use is used according to the Approved Code of Practice and that all operators are trained and certified in its use.
Product registered for Professional use in UK only.
ALWAYS READ THE LABEL. USE PESTICIDES SAFELY.