Barclay Ringer Insecticide (MAPP 13289)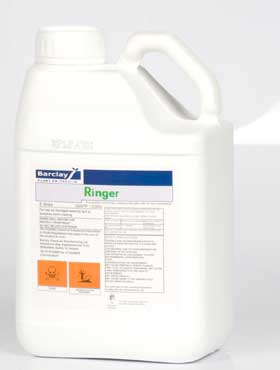 A worm suppressant. Ringer will give useful suppression of worm casts (at the rate of 40mls per 100 square metres). It works primarily by anti-feeding/repellent action causing casting worms to avoid feeding in treated areas.
Contains: Carbendazim 500g/ltr
Features:
Gives worm control
Rainfall or irrigation will not reduce effect
Can be tank mixed with SPANNIT & SCUBA for increased effects
Size: 5
Pack Coverage:12,500 m²
Amount of Product Required:4 Ltr/Ha
Water Volume Required:1000 Ltr/Ha
Note: It is your responsibility to ensure that any pesticide product for Professional use is used according to the Approved Code of Practice and that all operators are trained and certified in its use.
Product registered for Professional use in UK only.
ALWAYS READ THE LABEL. USE PESTICIDES SAFELY.