Bayer Merit Turf (MAPP 12415)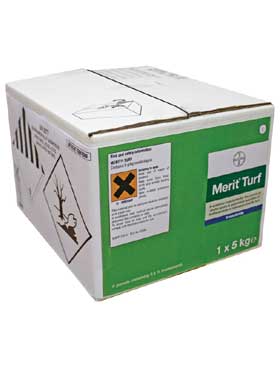 CURRENTLY OUT OF STOCK
An insecticide for the control of Chafer Grubs and Leatherjackets.
MERIT® TURF can be used as an insecticide for control of chafer grubs and leatherjackets on golf courses, bowling greens, athletic fields, commercial and residential lawns and other managed amenity turf situations. The active ingredient in MERIT® TURF has sufficient residual activity so that applications should be made prior to the egg laying activities of the target pests.
Applications should be made prior to anticipated pest infection to achieve optimum levels of control (prior to egg hatch), normally from middle of May to middle of June. Alternatively when identification of damage to turf is seen. This period can normally be anticipated when you see the beetle eggs in the soil. One application per year is needed for chafer grub and leatherjacket control with an application made in late spring/early summer.
Application: This product is best applied my using the Ev-N-Spred 3100 or Ev-N-Spred M40 spreaders. These two spreaders have been calibrated and we have the spreader settings for accurate application.

Contains: Imidacloprid 5g/Kg
How Merit Works:
Insects that have ingested or absorbed the imidacloprid stop what they are doing or suspend normal behaviour

Insects stop feeding immediately and do not survive.

The grubs will either be affected by eating the turf roots (where the product has been transported systemically) or by absorption through their outer body.
Size: 5Kg
Note: It is your responsibility to ensure that any pesticide product for Professional use is used according to the Approved Code of Practice and that all operators are trained and certified in its use.
Product registered for Professional use in UK only.
ALWAYS READ THE LABEL. USE PESTICIDES SAFELY.