ECOZONE AND ECODRESS
17 Dec 2011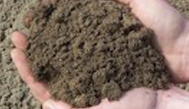 EcoZone & EcoDress are innovative new blends of sand and green compost, ideal for use as a rootzone material or fairway / pitch dressing or fineturf construction areas.
It's easier on the environment than conventional rootzones as it utilises a sustainable organic amendment in a place of soil. Green compost provides a range of other benefits over and above soil. To begin with it has a higher organic matter content and provides more nutrients, especially nitrogen and potassium. Its microbial activity helps to suppress certain turf diseases and it can also improve water holding capacity (very useful if you've seen the weather forecast lately.) And finally, green compost is manufactured which means greater predictability and consistency.
Consistent quality year round
Helps suppress disease
Improves water holding capacity
Helps seed germination
Ideal for Local Authority recycling targets
Ecodress - For dressing fairways, football pitches, tees and any other non fineturf area.

Ecozone - For use in construction of fineturf rootzone playing surfaces.