Educational Day At York Racecourse
14 Mar 2012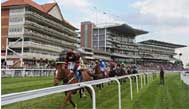 We would like to invite you to an educational day at York Racecourse in association with Terralift and Rufford.
THURSDAY 22nd MARCH at 10.15am
The day will include:-
Adrian Kay, York Racecourse Grounds Manager talking about course operations.
Presentation on Quadrop and improving irrigation water.
Terralift fertilisers and soil health.
Mick Higgins, Rufford discussing appropriate top dressing for sports surfaces.
Confirmation is essential due to limited numbers.
If you wish to attend please confirm attendance on 01977 681155 by Friday 16th March.