John Philp has hole at Carnoustie named after him!
17 Apr 2012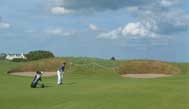 After 30 years in charge at Carnoustie Links Trust John Philp confirmed to our representative John Robertson that he is to get a hole named after him.
John Robertson has been supplying John Philp for over 25 years, with fertilisers, weedkillers, fungicides, grass seed and wetting agents. When John was speaking to John Philp last week he confirmed the club have decided to honour his 30 years at Carnoustie by naming the 11th hole at Carnoustie after him. The hole which was previously called "Dyke" will be known as "John Philp" from June after John Philp retires.
We would like to congratulate John Philp on this great honour.
Further Information - Click here