Wentworth - Retirement of Chris Kennedy
21 Jun 2012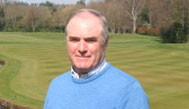 Chris Kennedy, Golf Courses Manager will be retiring from his position after 22 years exemplary service.
Chris, who joined the Club back in February 1990, will continue to work until 29th June 2012 and has been responsible for his final BMW PGA Championship in May.

When Chris retires he will have managed the course presentation at Wentworth for
a staggering 52 European Tour Professional Golf Tournaments.

Julian Small, Chief Executive of Wentworth Club commented: "We wish Chris the very best in his retirement. He has been an exceptional member of the team here and overseen significant development of all our golf courses. I don't think there is a Golf Course Manager in the world that can match Chris's record in preparing golf courses for professional tournaments."

Chris Kennedy said of his time at the Club "It has been a privilege and a pleasure to have been Golf Courses Manager for the last 22 years at Wentworth Club.
I would like to thank both Elliott Bernerd and Richard Caring, the two owners of the Club during my time here, for giving myself and the team the chance to be involved in all the course changes over the years.
Wentworth is a special golfing venue with three wonderful courses, all different. Working with the Tour for the PGA Championship is always the highlight of the year and all the boys have worked very hard over the years to help make the event so great.

I would like to welcome Kenny Mackay to the Club as my replacement and working with him during our handover period. I know he will do a great job. Finally after fifty years in the golf industry, Jill and I are going home to Scotland to play some golf and spend time with our families."
Chris's successor, Kenny Mackay was joined Wentworth on 30th April 2012. Previously Director of Golf Courses and Grounds at The Belfry since 2005, Kenny has gained a wealth of experience in golf course management and professional golf tournament preparation over the last 18 years, forging an enviable Curriculum Vitae including previous roles at The London Golf Club, Hanbury Manor and The Forest of Arden. He is also a Past Chairman of BIGGA (British and International Golf Greenkeepers' Association) and a Category One golfer.
Kenny stated "I am very excited about this new challenge and realise that I am joining a world class venue with a superb tournament history. I look forward to the professional challenges that come with the events along with meeting and getting to know the members.
All at Aitkens wish Chris and Kenny all the best in their futures.