Robert Gets New Role
13 Jan 2014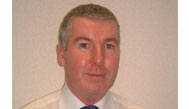 Robert Ewing has been appointed Sales Manager for Richard Aitken (Seedsmen) Ltd
Robert has taken on the role following the retirement last year of John Robertson. Robert started in 1986 for the company and has sucessfully worked his way through the company over the years.
He will still remain looking after his existing customers throughout Scotland in his new role.
Richard Aitken Managing Director said "We are delighted Robert has accepted this position in the company. He has vast experience and has gained respect from customers and staff alike. We are looking forward to his input over the coming years."