Aitkens Sportsturf Ltd Celebrate 25 Years
16 Jan 2015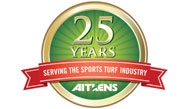 25 Years ago we set up in business
Richard Aitken opened Aitkens Sportsturf Ltd in Tadcaster in North Yorkshire in 1990. The company started with three members of staff Peter Fell, Norman Sheddon and Eddie Russell.
Unfortunately two of these members of staff have unfortunately passed away, however we still have Peter Fell our Sales Manager carrying on strong.
Over the years we have moved premisis a few times and for the past 15 years have settled in our purpose built warehouse in Sherburn In Elmet.
We have now grown in size as our company motto says "The growing business" to have 14 members of staff covering from Suffolk to Cumbria.
We wolud like to thank staff and customers old and new who have helped us along the way. We look very much forward to the next 25 years so we can emulate our sister company Richard Aitken (Seedsmen) Ltd who in 2013 reached 50 years in business.