Polylast Bunker Liner
Welcome to the best bunker liner available, now in the UK
Fast self-install patented rubber bunker liner

No expensive install team required

Strong & durable

It can be laid in nearly all weather conditions, all year round

No long curing process unlike other bunker liners

10 year manufacturer's warranty

Water flows to prevent washouts

Safe to golf clubs and golfers

No foreign particle migration

Fix any problems under liner without ripping out the whole liner

Contains patented Microban antimicrobial bacterial technology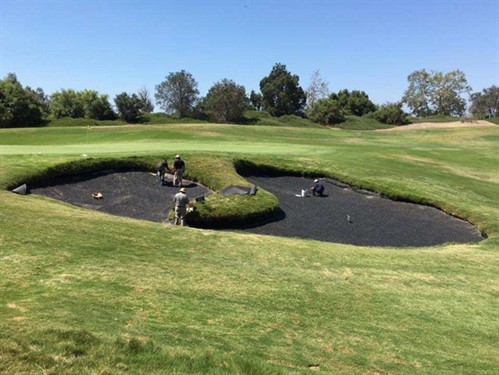 A superior solution to a complex issue
Polylast™ Bunker Liner improves the flow of water through your bunkers by becoming an extension of your drainage system. The porous material allows water to percolate down into the soil at any point of contact which helps to prevent washouts. At the same time, the liner keeps your sand clean from migrating rocks and soil from the native subsurface.
Fast Installation
This unique patent pending solution is made in the USA and prefabricated from 100% recycled rubber which arrives ready to install. Installation is simple, requiring only the placement of the preformed pads, of which the seams are glued together. This liner doesn't require any special heavy equipment or any certified installation crews. The material is flexible, allowing it to easily contour to the curves and dips of your bunkers, while being strong enough to withstand accidental scrapes from machine rakes.
Water flows through
Even when Polylast™ Bunker Liner is installed on a steep bunker wall, water flows through the liner at the point of impact instead of washing sand off the bunker face. The fact is, Polylast™ Bunker Liner facilitates superior bunker drainage while keeping sand in its place
Seamless edges
Along the edges, Polylast™ Bunker Liner can be placed under the turf, creating a seamless edge while allowing the roots to thrive in the porous material. Additionally, trimming turf edges has never been easier as it will easily withstand the use of string strimmers, making it very easy to trim bunker edges without damaging the trimmer or the liner, while keeping the sand in place. This revolutionary bunker liner is a simple, superior solution to what has become a complex issue.
Seriously Durable
Many fabric liners are susceptible to animals, maintenance equipment and even a strike from a golf club. This can cause failure in the liner and the need for frequent replacements.
Polylast™ Bunker Liner is strong enough to withstand the weight of course equipment, animals, spikes, the impact of the worst golf strokes, nearly everything and anything you can throw at it. Including the abuse of a machine rake. Polylast™ Bunker Liner even comes with a manufacturer's10 year warranty.
Thin and flexible
Polylast™ Bunker Liner is thin and flexible, allowing it to easily contour to the curves and dips of your bunker, simplifying preparation.
Freeze / Thaw Cycles
Polylast™ Bunker Liner is unaffected by cold weather, maintaining its strength and flexibility down to -40 Celsius eliminating any concern about breaks or separation from freezing
Drainage problem?
If you have a drainage problem under the liner once installed - No Problem! Cut through the liner repair the problem and re-glue. The liner is ready to go again. No ripping out of the whole liner and having to get an installation team booked to come back and repair.
Safe for golf clubs
Polylast™ Bunker Liner is incredibly strong, but easy on golf clubs. Many hard surface liners damage golf clubs that accidently come into contact with them. Often golf courses will have to replace these damaged clubs, creating an unnecessary expense.
Polylast™ Bunker Liner is not a "Hard Surface Liner", and will not scuff or damage golf clubs. At the same time, the liner is so durable that it will not be damaged by even the worst golf swing's.
Polylast comes in 1.21m x 7.62m Rolls = 9.3 sq.mtr
(Installation Guide - see additional information below)
VIDEO
Roll out the Polylast Bunker Liner