Aitkens Tru-Green Organic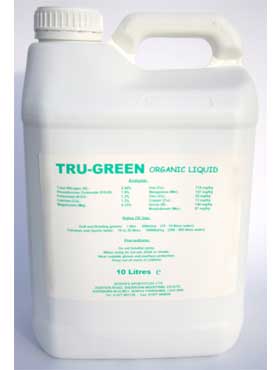 Tru-Green Organic liquid is a fully organic fertiliser made from micronised fishmeal harvested from the Pacific coast of New Zeland with two exciting properties:
As a feed:-
Tru-Green Organic contains a balanced formulation of NPK (8-8-7) which is in a readily available form of feed both via the leaf blade as well as the rootzone - stimulating and feeding the plant simultaneously. Nutrients are also present in a more slowly availasble form as the organic matter breaks down providing a slow-release effect. It also cottains significant levels of calcium, magnesium and all the trace elements a plant needs.
Tru-Green Organic also contains natural growth promoters to ensure that the plant makes full use of the available nutrients.
Sticker / spreader / penetrant:-
Tru-Green Organic contains high levels of naturally occurring fish oils giving it excellent sticker / spreader / penetrant properties breaking down surface tension on the leaf allowing better absorption by the plant and penetration of water into the turf. These oils also act as an organic sticker which ensures maximum adherence and absorption of foliar sprays by the leaf. These properties also mean an enhanced effect of any other chemicals that are added to the mix.
Tru-Green Organic benefits:-
A fast response and a steady, prolonged growth and green-up effect
Less run-off and leaching due to rainfall or irrigation. this increases the efficacy of all sprays and minimises nutrient losses to avoid contamination of waterways.
It has a very low scorch potential and can be used on newly sown turf.
Use as a starter feed or as a tonic for turf growing in cold, wet or waterlogged soils, where a kick start is required. It is also ideal for use as stress relief on dry stressed turf.
Protein from the blood and bone will feed and nurture the beneficial micro-organisms, which can help breakdown the thatch layer and convert into humus
Contains a high level of calcium in a gradual release form, together with proteins, amino acids and globulin
Typlical Analysis:-
Element w/w
Nitrogen (N) 8%
Phosphorus (P) 8%
Potassium (K) 7%
Sulphur (S) 2.7%
Calcium (Ca) 1.3%
Magnesium (Mg) 0.2%
Iron (Fe) 883ppm
Manganese (Mn) 193ppm
Zinc (Zn) 67ppm
Copper (Cu) 90ppm
Boron (B) 192ppm
Molybdenum (Mo) 119ppm
Cobalt (Co) 10ppm
+ Natural Growth Gromoters
Application:-
Golf Greens - 20Ltr / Ha in 800 - 1200Ltr water
Bowling Green - 2Ltr per 1500m² green in 60-100Ltr water
Outfields - 5 -10Ltr / Ha in 400 -800 Ltr water