Award Nutri-Pro Liquid (12-0-10) Plus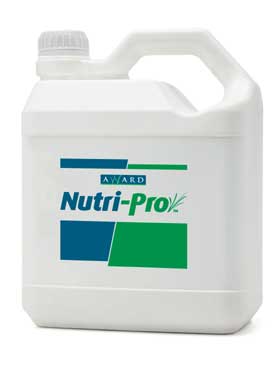 The Nutri-Pro range of advanced liquid fertilisers designed to provide precise nutrition with innovative additional benefits. Nutri-Pro liquids can be tank mixed to provide custom analysis if required. (See the tank mixing compatibility chart in the brochure)
Rapid response with controlled release nutrient
Contains Amino Acids to improve stress resistance
Increased performance with leaf and root uptake
Contains all necessary trace elements for healthy turf
Phosphite helps strengthen against disease
Encourages deeper, healthier rooting
Increased chlorophyll concentration leading to improved photosynthesis
Will not produce flushed growth when applied
Range can be tank mixed to provide added benefits and analysis
Silicon increases plant strength and vigour
12-0-10 contains:-
Controlled release
Nitrogen contained within the formulation is a combination of conventional release nitrogen and controlled release Methylene Urea. This provides a longer lasting performance which does not lose any of its immediate availability.
Amino acids
The amino acid supplements are designed to maximise the health of the turf plant during periods of turf stress. They help increase the rapid uptake of nutrients and ensure efficient utilisation. Turf quality improves due to photosynthesis and cholorphyll production. The plant will also have an increased metabolism in early and late seasons making the plant work earlier at lower temperatures. This will help in a cold spring when the different grass species grow at different rates.
Trace elements
Trace elements provide the plant with a range of important micro nutrients which help overcome any deficiencies found within the plant and increase the plants health e.g. root production and leaf strength.
Increased absorption and transportation of nutrients within the plant
Applying amino acids saves the plant energy allowing it to photosynthesize normally even under stress conditions
A NK formulation for when no phosphate is required
Size : 10Ltr / 200Ltr / 1000Ltr
Application:
Nutrients are delivered to the plant by rapid foliar and root absorption. By applying in low water volumes, the adjuvants and small molecular structure enable the nutrients to be taken up by the leaf. Applying in higher water volumes, the nutrient is taken past the leaf to the rootzone where the nutrients can be tken up by the plants roots.
Apply at 20 - 100Ltr / Ha with a water volume of 400 - 1000Ltr / Ha
The area treated by a 10Ltr pack = 1000 - 5000m²