Everris / Scotts Sportsmaster WSF High P (16-32-16 + 0.01%Zn)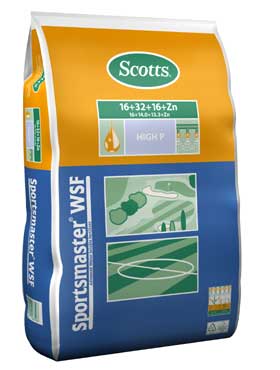 This product contains chelated trace elements to boost growing performance and produce efficacy stimulant, to provide additional NPK ratios and a total liquid treatment in one convenient application.
16-32-16+0.01%Zn
Contains TMax for enhanced nutrient uptake.
Consistent colour with no rapid tail-off.
Extremely safe to use due to quality nutrient sources and low Salt index.
Wide choice of analyses for the correct nutrition input
Ideal for over-seeding renovation work.
High P to NK ratio encourages strong root growth and seed establishment.
Chelated zinc enhances turf health.
Size: 15Kg
Pack coverage : 2500 - 10,000