Terralift T-Plex N (26-0-0)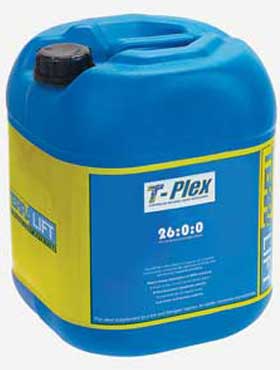 T-Plex controlled release fertilisers are an innovative tool to take control of colour and growth throughout the year. T-Plex "sticks" for good leaf absorption and its acids optimise tissue translocation, whilst run-off retains high "in soil" mobility.

T-Plex liquids are true solutions, not suspensions, meaning that each drop contains exactly the same nutrient mix as the next.

T-Plex N lifts plant metabolic activity to optimise colour and quicken root development.
6 to 8 week in-plant metabolic release phase
Chelated agents and acids ensure leaf absorption
High nitrogen feed
Size: 20 Ltr
Pack Coverage:2000 - 5000 m²
Amount of Product Required:40 - 100 Ltr/Ha
Water Volume Required:240 - 600 Ltr/Ha