Everris / Scotts Banner Maxx (MAPP 13167)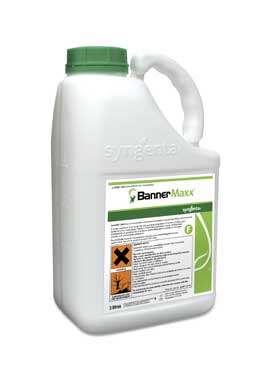 BANNER MAXX is broad spectrum foliar fungicide with systemic properties for control of Dollar Spot, Anthracnose, Brown Patchand Fusarium Patch on managed amenity turf and amenity grassland.
Propiconazole is rapidly absorbed by the assimilating parts of the plant, mostly within one hour of treatment. It is transported acropetally (upwards) in the xylem. This systemic translocation contributes to good distribution of the active ingredient within the plant tissue.
Contains Propiconazole 156g/Ltr
Features:-
Systemic
Fast uptake and will protect turf while it grows
Excellent control of 4 main diseases
Rainfastness 1 hour
Max No. of applications per year - 4
Size: 3 Ltr
Pack Coverage: 10,000 m²
Amount of Product Required: 3 Ltr/Ha
Water Volume Required: 400 - 1000 Ltr/Ha
Note: It is your responsibility to ensure that any pesticide product for Professional use is used according to the Approved Code of Practice and that all operators are trained and certified in its use.
Product registered for Professional use in UK only.
ALWAYS READ THE LABEL. USE PESTICIDES SAFELY.