Everris / Scotts Instrata (MAPP 16458)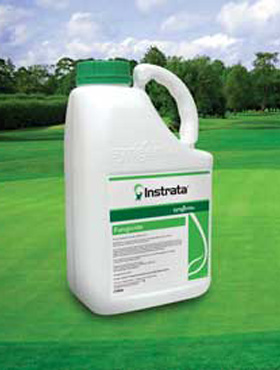 A three-way mode of action contact and systemic fungicide which gives powerful protection
from disease infection. Instrata also provides curative and eradicant activity if disease symptoms have already broken out. It will treat Fusarium Patch, Anthracnose, Dollar Spot and Brown Patch.

Contains Clorothalonil 362 g/ltr, Fluidoxonil 14.5 g/ltr, Propiconazole 56.9 g/ltr

Features:
Contact & systemic with 3 active Ingredients
Works at all stages of disease attack
Use at any time of year
Rainfastness 1 hour
Max No. of applications per year - 1
Size: 3 Ltr
Pack Coverage: 3333 m²
Amount of Product Required: 9 Ltr/Ha
Water Volume Required: 500 - 1000 Ltr/Ha
Note: It is your responsibility to ensure that any pesticide product for Professional use is used according to the Approved Code of Practice and that all operators are trained and certified in its use.
Product registered for Professional use in UK only.
ALWAYS READ THE LABEL. USE PESTICIDES SAFELY.