Syngenta Heritage (MAPP 13536)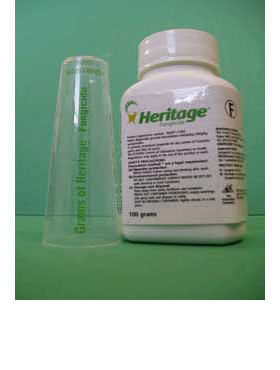 A unique fungicide with proven and unparalleled preventative and early curative action. Enters turfgrass through leaf, stem and root system.
For use on all grass species.
Extensive trials and independent testing have verified the effects of Heritage on problem turf diseases including:
Fusarium Patch (Microdochium nivale)
Anthracnose (Colletotrichum graminicola)
Brown patch (Rhizoctonia solani)
Leaf spot / Melting out (Drechslera poae)
Rust diseases (Puccinia spp.)
Take All Patch (Gaeumannomyces graminis)
Contains Azoxystrobin 500g/kg
Features:
Contact, systemic and translaminar
Unique mode of action
Low recommended rates of use
Rainfastness 1 hour
Max No. of applications per year - 4
Size: 100g / 500g
Pack Coverage: 100g - 2000 / 500g - 10,000 m²
Amount of Product Required: 500 grams Ltr/Ha
Water Volume Required: 800 - 1000 Ltr/Ha
Note: It is your responsibility to ensure that any pesticide product for Professional use is used according to the Approved Code of Practice and that all operators are trained and certified in its use.
Product registered for Professional use in UK only.
ALWAYS READ THE LABEL. USE PESTICIDES SAFELY.
PRICE BELOW IS FOR THE 100g PACK SIZE