Syngenta Instrata Elite (MAPP 17976)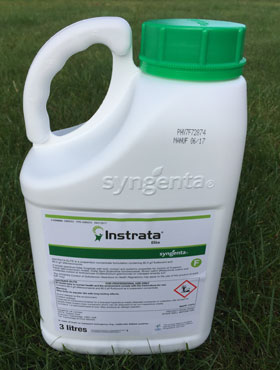 A two-way mode of action contact and systemic fungicide which it is highly effective against all key turf diseases to protect plant health and playing surface quality. With a new turf active ingredient called Difenoconozole which has a systemic mode of action. It gives outside in protectionand is very rainfast. The fast dual action of Instrata Elite can be used all year round. It is approved for use on golf courses and amenity turf as well as sports turf stadia and pitches.
Instrata Elite also provides curative and protectant activity. It will treat Fusarium Patch, Anthracnose, Dollar Spot and Brown Patch.

Contains Clorothalonil 80.3 g/ltr, Fluidoxonil 80.3 g/ltr, Difenoconozole

Features:
Contact & systemic with 2 active Ingredients
Works at all stages of disease attack
Use at any time of year
Rainfastness 30 minutes
Max No. of applications per year - 2
Size: 3 Ltr
Pack Coverage: 10,000 m²
Amount of Product Required: 3 Ltr/Ha
Water Volume Required: 125- 500 Ltr/Ha
Note: It is your responsibility to ensure that any pesticide product for Professional use is used according to the Approved Code of Practice and that all operators are trained and certified in its use.
Product registered for Professional use in UK only.
ALWAYS READ THE LABEL. USE PESTICIDES SAFELY.