Syngenta Medallion TL (MAPP 15287)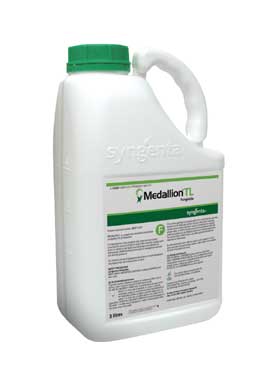 Medallion TL offers an exciting option to provide high levels of disease control and long-lasting results from a modern bio-inspired fungicide. The exciting Contact+ activity of Medallion TL can tackle damaging pathoens on the leaf, thatch and the soil surface.
It will treat Fusarium Patch, Leaf Spot and Anthracnose
Contains Fludioxonil 125g/ltr
Features:
Offers a new solution with outstanding high level of disease control and exceptional long-term results.
Bio-inspired by naturally occurring soil organisms which stop fungi developing.
Knockdown activity gives the rapid reduction of Fusarium inoculum before it has the chance to infect turf and cause damage.
The fast-acting Contact+ fungicide activity can achieve this knockdown of disease in leaf, thatch and soil surface.
Rainfastness 1 hour
Max No. of applications per year - 4
Size : 3Ltr
Pack Coverage: 10,000 m²
Amount of Product Required: 3 Ltr/Ha
Water Volume Required: 125 - 500 Ltr/Ha
Note: It is your responsibility to ensure that any pesticide product for Professional use is used according to the Approved Code of Practice and that all operators are trained and certified in its use.
Product registered for Professional use in UK only.
ALWAYS READ THE LABEL. USE PESTICIDES SAFELY.