Award Nutri-Pro Spring & Summer (12-0-11 +2%Fe +3%MgO +Te +Lignite +Amino Acids)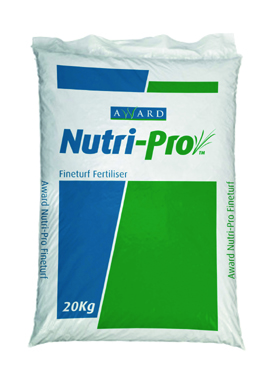 The Nutri-Pro fineturf range contains a combination of conventional release fertiliser with the addition of amino acids, trace elements and the unique Bovey Basin Lignite. The homogeneous 1-2mm micro-granules each contain the same analysis, providing a uniform application and result.
Advanced longevity and colour
Increased nutrient performance
Improved stress resistance and aids recovery
Contains the necessary trace elements for healthy turf
Prevents trace element deficiency
Improved chlorophyll concentration leading to improved photosynthesis
Will not produce growth flushes when applied
Dust-free micro-granules for an accurate application
12-0-11 benefits:-
A NK formulation for when phosphate levels in the soil are sufficient. The additional benefits of amino acids will help produce a stronger more resilient plant during summer when drought and heat may affect the plant.
A balanced NK formulation for when phosphate levels are adequate
Amino Acids produce a stronger more resilient plant during periods of summer stress
Iron and potassium help wear and tear during the playing season
Lignite prolongs the nutrient release
Will produce good colour without growth flushes
Size: 20kg
Application Rate: 30 - 35 gms/m²
Pack Coverage: 571 - 666 m²
80% Ammonical Nitrogen
20% Ureic Nitrogen
Kg of Nitrogen@35g: 42 per Ha
Kg of Nitrogen@35g: 0 per Ha
Kg of Potassium@35g: 38.5 per Ha