Barclay Holster XL (MAPP 16407)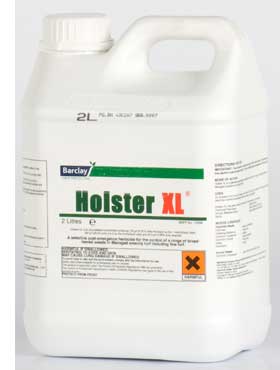 Holster is a turf herbicide that has been specifically developed for the control of problem weeds in amenity turf (including fine turf).
Holster provides outstanding control of a range of broad-leaved weeds including Yellow Suckling Clover, Slender Speedwell, Daisy and Common Mouse Ear.
Contains Fluroxypyr 105g/ltr, 2,4-D 285g/ltr, Dicamba 52.5g/ltr
Features:
Excellent grass safety

Controls Slender Speedwell

Application to newly sown grass after 2 months

Max No. of applications per year - 2
Size: 2 Ltr
Pack Coverage:10,000 m²
Amount of Product Required:2 Ltr/Ha
Water Volume Required:200 - 1000 Ltr/Ha
Note: It is your responsibility to ensure that any pesticide product for Professional use is used according to the Approved Code of Practice and that all operators are trained and certified in its use.
Product registered for Professional use in UK only.
ALWAYS READ THE LABEL. USE PESTICIDES SAFELY.