Kombi 3 Line Marker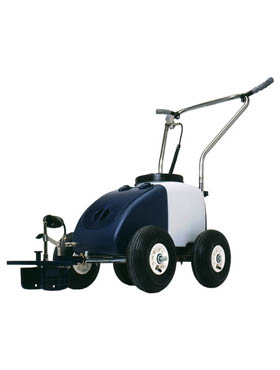 The Kombi 3 now comes with the wheeled knib style attachment as standard, giving adjustable line widths and crisp well defined lines with each mark. The addition now means the Kombi 3 can be used on a variety of sports surfaces such as grass, hard and synthetics straight out of the box.
The new Lithium ION heavy duty battery will give an 8-hour marking session before having to be re-charged and has an LED charge indicator to show the battery status.
When used with Fleet's range of marking liquid there is no need for external mixing: the paint disperses into the water immediately in the 25 litre tank. At the end of the day's marking, and just a flick of a switch, the Kombi flushes clean water, drawn from it's rear water tank, through the nozzle assembly, thus eliminating expensive pump and nozzle blockages.
1.5 up to 6" Line Marking Width
25 Litre (6 Gallon) Paint Tank
5 Litre (1.5 Gallon) Water Tank
Center or Side Marking
Lithium ION Battery With LED Level Indicator
Stainless Steel Chassis
12V Diaphragm Pump

Surfaces that the Kombi marks especially well:
Sand Filled Synthetic Turf.
Sand Based Synthetic Turf.
Rubber Crumb Based Synthetic Turf.
Concrete and tarmac (when used in conjunction with wheeled knib)
Size: Each