Everris / Scotts Jewel (MAPP 16212)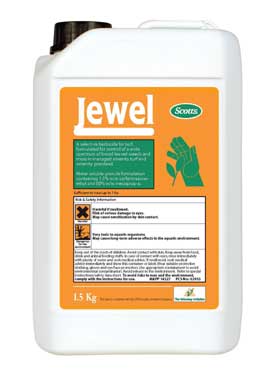 The first weed and mosskiller on the market. Two powerful herbicides combine to make this product unique. Jewel has both post emergence contact and systemic activity.
On exposure of the active ingredient on moss it will turn a distinct off-white colour due to the loss of chlorophyll. Effects are usually visible within 14 days after application, dependent on weather conditions.
Weeds controlled: Bristley oxtongue, Bucks horn plantain, Greater plantain, Cinquefoil, White Clover, Creeping Buttercup, Daisy, Birdsfoot Trefoil, Speedwell.
Contains Carfentrazone 1.5% w/w and Mecoprop-P 60% w/w
Features:-
Controls weeds and moss
Contact and systemic
Water soluble granules
Gives complete weed kill, right down to the roots
Rinfastness 1 hour
Max No. of applications per year - 2
Size : 1.5Kg
Pack Coverage: 1.5Kg - 10,000 m²
Amount of Product Required: 1.5 Kg/Ha
Water Volume Required: 500 Ltr/Ha
Note: It is your responsibility to ensure that any pesticide product for Professional use is used according to the Approved Code of Practice and that all operators are trained and certified in its use.
Product registered for Professional use in UK only.
ALWAYS READ THE LABEL. USE PESTICIDES SAFELY.