Everris / Scotts Rescue (MAPP 14518)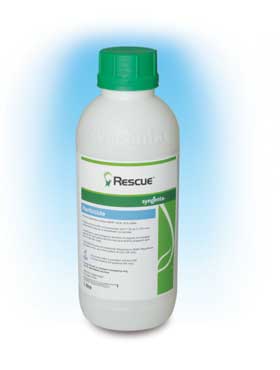 A selective herbicide for the control of ryegrass in fine turf swards.

For the first time, golf course managers have the opportunity to quickly and effectively reduce invasive clumpy Ryegrass that adversely affects the quality and playability of turf, without recourse to expensive, mechanical verticutting, laborious hand weeding or even re-turfing.
In just one or two applications over a season, Rescue can reduce Ryegrass and, with the help of over-seeding, reinstate finer species to create consistent high quality playing surfaces.
Rescue has been extensively trialled and proven on all golf course types where invasive Ryegrass cause perpetual problems.
Effective control of Ryegrass.
Reduces other invasive coarse grasses.
Leaves fescues and poa annua unaffected.
Replaces expensive, time-consuming and ineffective conventional Ryegrass reduction techniques.
Easy to use formulation.
Restores high quality, fine playing surfaces
Rainfastness up to 2 hours
Max No. of applications per year - 2
Contains: 45g/ltr Pinoxaden, 11.25g/ltr Cloquintpcet-mexyl



Size:1Ltr
Pack Coverage:10000 m²
Amount of Product Required:1 Ltr/Ha
Water Volume Required:250 - 500 Ltr/Ha
Note: It is your responsibility to ensure that any pesticide product for Professional use is used according to the Approved Code of Practice and that all operators are trained and certified in its use.
Product registered for Professional use in UK only.
ALWAYS READ THE LABEL. USE PESTICIDES SAFELY.