Vitax Esteem (MAPP 15181)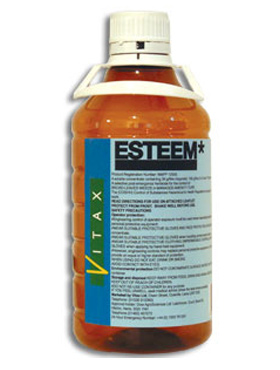 A three way mix of hormone weedkillers capable of controlling a wide range of broad leaved weeds in turf. Rain fast in 3 - 6 hours.
Contains Clopyralid 35g/lre, 2,4-D 150g/ltr & MCPA 175g/ltr
Features:
Contains three herbicides
Rainfast in 3 - 6 hours
Wide range of weeds controlled

Size: 2 Ltr
Pack Coverage:6666 m²
Amount of Product Required:3 Ltr/Ha
Water Volume Required:200 - 400 Ltr/Ha
Note: It is your responsibility to ensure that any pesticide product for Professional use is used according to the Approved Code of Practice and that all operators are trained and certified in its use.
Product registered for Professional use in UK only.
ALWAYS READ THE LABEL. USE PESTICIDES SAFELY.