Barclay Kerb Granules (MAPP 14213)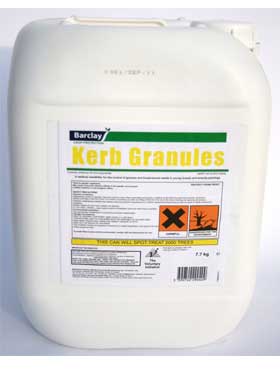 Kerb Granules are a residual herbicide for the control of grasses and broad-leaf weeds in forestry and amenity plantings. A total weedkiller in an easy to apply granular formulation.
Contains Propyzamide 4% w/w
Features:
Residual
Pre or post-emergence application controls annual and perennial grasses
Controls a wide range of broad-leaf weeds
Can be used on ornamental beds of roses, shrubs and trees
Low application rates
Excellent plant safety
Max No. of applications per year - 1
Size: 3.85Kg
Note: It is your responsibility to ensure that any pesticide product for Professional use is used according to the Approved Code of Practice and that all operators are trained and certified in its use.
Product registered for Professional use in UK only.
ALWAYS READ THE LABEL. USE PESTICIDES SAFELY.