New To the UK Polylast Bunker Liner
17 Nov 2017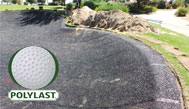 Aitkens have been appointed the UK distributor for Polylast Bunker Liner
Scottsdale-based, Polylast Systems announced today, that it has expanded its bunker liner operations into the United Kingdom with the addition of a distributorship by Aitkens.
Polylast founder, Pete Laurence, said "Golf superintendents and contractors in the United States, Canada and India have realized the value and benefits of the Polylast Bunker Liner and now we are pleased to introduce this revolutionary system to the UK." He continued with, "The Polylast Bunker Liner is in line with the quality of products and services offered by Aitken's Sportsturf, and we believe this will be a tremendous partnership."
Richard Aitken said "There are a number of bunker liner solutions in the UK, however we believe the Polylast system is the best" he continued " It has the answers to all the other systems flaws. It is a self instal system meaning no expensive contractors are required. It has no long curing process and it is stong and durable while being safe to golf clubs unlike hard liners. We look forward to bringing the benefits of the Polylast system to UK Greenkeepers."