The growing company expand again
15 Jan 2018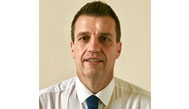 Michael Young joins Aitkens in the South West
We are pleased to announce that Michael Young has started working for us in the South West of England. Michael has over 21 years of experience in the industry and is looking forward to his new role.
Michael will be able to call on our expansive product portfolio and excellent customer service and use it to his advantage in the South West.
"Michael will be calling on golf courses, landscapers and other sports clubs in the area, expanding the area covered by Aitkens. It is an exciting time for Michael and Aitkens." said Richard Aitken Jnr.