Greg Joins Aitkens
11 Apr 2018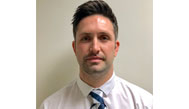 Greg Williams joins Aitkens to cover Wales
We are pleased to announce that Greg Williams has joined us to cover Southern, mid and West Wales.
Greg joins Aitkens from a greenkeeping background having worked most recently at Newport Golf Club. He has also worked at a handfull of other courses in the area.
Greg will be introducing the Aitkens brand into southern Wales for the first time which he is looking forward to.
Richard Aitken said "Greg will be a great asset to the team and has a great outlook and is full of enthusiasm, which I am sure the customers he calls on will appreciate"