BIGGA Education Supporter
26 Feb 2019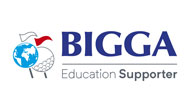 Aitkens to provide educational opportunities for BIGGA members after becoming greenkeeping association's latest Education Supporter
Aitkens has strengthened a three-generation relationship with the British and International Golf Greenkeepers Association by being announced as BIGGA's latest Education Supporter.
Established as Richard Aitken (Seedsmen) in 1963, Aitkens is a leading supplier to the sportsturf and landscaping industry, with depots in Glasgow and Yorkshire.
The company's portfolio includes over 900 products and Aitkens is also a main distributor for companies such as Terralift, ICL, Rufford, Vitax, Barclays and Bayer.
BIGGA Education Supporters help the association to provide its members and those in the wider greenkeeping industry with educational opportunities throughout the United Kingdom. Better education opportunities help to raise the standards of golf greenkeepers and the courses they manage, creating a more successful and vibrant golf industry.
Richard Aitken Jnr is the third generation of his family to have been involved with the business and said: "We have a relationship with BIGGA going back many years. My grandfather was actually involved with setting up the Scottish & International Golf Greenkeepers Association, which was one of the organisations that evolved to become BIGGA. We've been involved with BTME at Harrogate each year, only missing the very first event and we're also really involved with BIGGA's local Sections around the country through our technical representatives.
"I'm really pleased to have signed this contract to become a BIGGA Education Supporter and we're really looking forward to developing our relationship with BIGGA and its members even more in future."
Lauren Frazer, Business Development Manager at BIGGA, said: "Aitkens is a famous surname within the greenkeeping industry and the family has been supporters of our members for generations.
"We're delighted that the company has made the decision to become a BIGGA Education Supporter as this allows us to formally recognise the incredible dedication they have shown to the industry, stretching back to before BIGGA itself came in to being."