BIGGA - Special Recognition Award
17 Dec 2019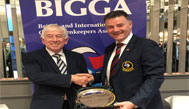 Congratulations to Richard Aitken Snr
Bigga Scotland have announced that Richard Aitken Snr is the 1st recipient of the Special Recognition Award which has been created for individuals that have made major contributions to our industry and the BIGGA association.
The award was presented by Stuart Taylor representing BIGGA at the annual awards ceremony lunch at Dunblane last week.
Congratulations to all the other winners as well.