James joins Aitkens
08 Jun 2016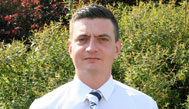 New appointment and a retirement
Aitkens are pleased to announce that James Daley will be joining the company as Brian Mainwaring retires after 16-years working as technical sales representative in the north west of England.
In his near two decades with Aitkens, Brian, has been looking after golf courses, high profile stadiums and sports clubs, making him an integral and valued member of the team.
Richard Aitken was keen to point out the contribution Brian had made during his tenure, whilst wishing him well in his retirement.
"Brian has been a fantastic member of our team for 16-years and has represented us and himself impeccably throughout that time."
"Although we are sorry to see him leave the company, taking all of his vast experience with him, we wish Brian the very best for his retirement and would like thank him again for his years of service."
Brian's departure has left an opening at the company, which will be filled by James, who will work with Matt Porter in the north west of England in the role of technical sales representative.
James joins Aitkens with plenty of experience in all areas of the industry, with the 33 year-old having spent five years working for a contractor in the north west, five years selling products to local authorities and time also spent working at Ashton-Under-Lyne Golf Club, and as a matchday groundsman.
Speaking on the new appointment Richard Aitken said: "We are very pleased to welcome James to the team, and look forward to him applying the knowledge he brings from different areas of the industry."
"We work across multiple sports, so James' experience as a contractor, greenkeeper and sales representative gives him a fantastic grounding to excel at Aitkens."