George Starts At Aitkens
21 Jun 2017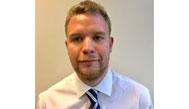 Aitkens are pleased to announce that George Butters has joined the company covering Norfolk, Suffolk & Cambridgeshire.
He will be working alongside Colin Rushbrook to increase our prsence in the area. George has worked as a greenkeeper in the Suffolk area over the past 8 years and is looking forward to bringing his experience to his new roll. He is a keen golfer and knows many of the courses in the area.
Richard Aitken said "George is a welcome addition to the team and we look forward to seeing him progress and using his greenkeeping experience to see him succeed in his new role"