Medalion TL New Turf Fungicide
10 Dec 2011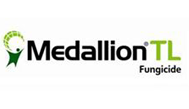 The eagerly anticipated Syngenta Contact fungicide active for turf, Medallion TL, has gained approval for use by turf managers.
Medallion TL not only targets disease pathogens on the leaf surface, but has the same effect on Fusarium disease spores in the thatch layer and the soil surface, according to Syngenta Technical Manager, Dr Simon Watson.

"Medallion TL will change the way we think about disease control, not only protecting from disease infection, but also reducing disease spore numbers and lowering the risk of further infection," he said. "That makes it incredibly effective in its primary role as an autumn and winter Contact treatment, but could also have a really valuable effect to prevent disease outbreaks triggered by spring and summer aeration or maintenance activities."

This new fungicide will be packed in a 3Ltr bottle which will treat 1 hectare and will be available from early April.