Successful Seminar at York Racecourse
23 Mar 2012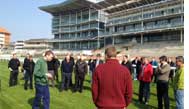 We had a very well attended educational seminar at York Race Course on the 22nd March.
On a very fine sunny day we had an excellent talk and guided tour of the Racecourse and the course operations by Adrian Kay, York Racecourse Grounds Manager.
Terralift talked about the benefits of Quadrop and turf grass nutrition.
Mick Higgins from Ruffords provided an interesting talk about the quality of sands used in the industry and their uses.
All who attended had said how interesting they had found the event and we would like to thank Adrian and his team for providing such a wonderful venue, along with all who attended.