BTME launch for new Syngenta XC Nozzles
10 Dec 2012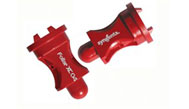 Syngenta is to launch its new XC range of turf sprayer nozzles at BTME in January
Designed to improve the accuracy and results from every application, the Syngenta Turf XC Nozzle range overcomes the key issues facing turf spray operators to achieve even
application.
An entirely new engineered solution incorporates a unique orifice design with a wide spray angle, to produce an improved droplet distribution - capable of delivering even turf coverage at low nozzle heights. This resolves problems with slopes and undulations that can result in uneven spray distribution.
Furthermore, the XC Nozzle design utilises new air induction technology to reduce the risk of spray drift, whilst still creating significantly more droplets to enhance leaf coverage. To deliver more effective results, each nozzle in the range has a specifically calculated and tested rearwards facing spray pattern, which counteracts the forward movement of the sprayer to coat and protect all sides of the turf leaf.
The XC Nozzle range will launch at BTME with three sizes: 025; 04 and 08 - selected to cover most turf applications at appropriate water volumes and typical spraying speeds.
To find out more and see a demonstration of the nozzles, along with calibration tips and practical ideas to improve the Art of Application, visit the Syngenta stand B52 at BTME, or visit back here on www.greencast.co.uk more information soon.
BTME Workshop - 'XC Technology - A breakthrough in golf turf application' - Wednesday 23 January - Queen's Suite, Harrogate. Free to all visitors