John Robertson Retires
25 Mar 2013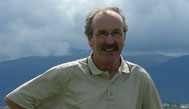 John retired at the end of January after 25 years of service.
John joined Aitkens in 1987 after a career in horticulture working for Dundee Parks Department, Vitax and Rembrand.
As sales manager for Richard Aitken (Seedsmen) Ltd, John was responsible for golf course sales in the East and North East of Scotland. He had looked after many of the prestigious courses in that area and will be fondly remembered by many greenkeepers. He also looked after the sales staff for the company and was heavily involved at Scotsturf and BTME exhibitions over the years.
John was well known and liked in his area and he was always known for being able to tell a story and a good joke.
"John has been a pivotal member of the team for Aitkens over the past 25 years", said Richard Aitken Managing Director. "He has been a loyal member of the team and it will not be the same without him. We all wish him well in his retirement."