Formulation V's Generic Pesticides
10 Jun 2013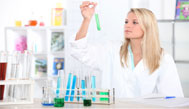 Are generic pesticides the same as branded formulation pesticides?
With frugal spending occurring across all business sectors, there is a temptation for turf professionals to choose generic control products containing the same active ingredient (AI), but at a lower cost compared to branded goods. Bayer's Technical Manager, Dorin Pop advises that in the long run, this may not be cost effective and that there is more to consider that just the AI.
Dorin explains that a great deal of work goes into bringing a new formulation to market and spans over a decade. "When a R&D company like Bayer start with a new AI, something that is not yet in the market, there is a timescale of around 10 years between the first experiments and market introduction; this is not too different to pharmaceuticals. We have a very strict registration process and a lot of tests have to be done to really show to the public that the products are safe."
The efficacy of a treatment relies heavily on the correct formulation technology. An effective product will be optimally developed for the target plant, and will focus specifically on the growing conditions and the mode of action (contact or translocated). There are however, many other variables to consider, for example, whether the plant has hairy leaf surfaces, waxy cuticles or exists within a humid climate. For these reasons it is impossible to find one product which can effectively treat everything.
An example of finely developed formulation technology can be found in the way certain formulated products evenly distribute active ingredients over the area of the leaves in order to control fungi. Leaves are covered in hydrophobic wax crystals, resulting in most liquids simply bouncing off them. To ensure that the product stays on the leaf surface, scientists add other substances which cushion the impact or reduce the surface tension. This ensures that the spray mist droplets adhere firmly to the leaves and also wet large areas so that the active substance can penetrate quickly.


"Without the right formulation, even the best active ingredient is useless," says Dorin. "The difference between a company like Bayer and generic company is the size of the team who are dedicated to the development of formulation technology, Bayer have over 100 scientists who specialize in new formulation development."
A good product formulation consists of more than just active ingredients. Dispersants, for example, ensure that very little stirring is required when diluting the product, while emulsifiers ensure even distribution of the product in water. Other substances make the mixture last longer, or prevent it from becoming lumpy and blocking the nozzles. In addition, there are adjuvants which help the active substance on its journey to its target. These affect droplet size and deformability or make it easier for the pesticide to coat a leaf.
Within Bayer's team of formulation experts, there are about 10 scientists who are dedicated to testing how stable the spray solution is. "All of our products undergo this practical testing so we know that when a product goes to market, it will spray well," says Dorin.
He adds that once a formulation is registered, it can't be changed. "For this reason, we ensure the formulation is perfect from an early stage and that is a standard for all of our products. This is something that most generic companies can't offer."
Finding the most effective mixture of thousands of substances
It is not uncommon for formulation companies to include the same active ingredient in different formulations. The presence alone of an active ingredient does not ensure the efficacy of the pesticide. An agricultural pesticide designed for wheat will not bring success when applied to turf. Specificity is key when it comes to formulation technology. For example, a pesticide formulated to adhere easily to hairy tomato leaves or even smooth apple leaves will simply be repelled by turf because of the large number of small wax crystals on the leaf.
Bayer fungicides are available for water-repellent turf due to the formulation which reduces surface tension therefore an even coverage can be achieved which will ensure optimum efficacy against disease.
In order to ensure the optimum formulation, Bayer scientists have developed a large supply of adjuvants. There are many substances that are available to put into formulations and many more being discovered. A great deal of experience and patience is required to select the right mixture from the thousands of potential substances. With meticulous attention to detail, the experts repeatedly test new adjuvants in different concentrations and changing combinations. Technicians compare potential products and quickly optimize them. Sometimes they are able to optimise penetration of the active ingredient with the use of special additives which soften the cuticle, and sometimes they prevent penetration by ensuring that the active substance forms insoluble crystals.
Further to this, it is commonly known that fungi reproduce very frequently and very quickly. "If a greenkeeper was to use just one active ingredient for a season, then a significant risk of resistance build up would occur," notes Dorin. "To counteract this, Bayer often have two active ingredients with different working mechanisms in one formulation. We also develop spray programmes and advise on which products should be applied at certain times; this all helps to prevent resistance build up."
Advanced formulation is what really sets the R&D companies apart from those who produce off-patent products, but for that advanced depth of knowledge and research, greenkeepers have to expect to pay a higher price. This is sometimes off-putting and adds to the temptation of generics, but Dorin insists that the advanced development of the product will result in a range of added benefits, including greater coverage on the green and added rainfastness. "Products like Bayer's Chipco® Green and Dedicate® are rainfast after just one hour, meaning in the largely wet climate that the UK offers, the products will adhere to the turf where other generic products would just wash away.
He also explains that greenkeepers who choose formulated products over generics are also buying into an after service that off-patent companies can't offer.
"We support our products with the very best customer service. Due to the level of research and development that goes into our products, we know everything there is to know about them and therefore can offer the best possible technical support." Dorin notes
As part of their customer support service, Bayer recently developed a mobile app which helps turf professionals identify a wide range of turf diseases and advises them on the best course of treatment. This includes recommended fungicide programmes as well as suggested cultural practices.
"A greenkeeper can even take a photograph of a disease and send it to Bayer via the app," Dorin adds. "A Bayer turf expert will be in touch within 48 hours to discuss the best course of action," comments Dorin. "This is an example of the advanced level of service on offer to our customers."
When you consider the relatively small difference in cost between our products and generics, the value of formulated products soon becomes clear. Dorin states that Bayer like to think that their customers are of the belief that the higher cost of the products includes an added insurance policy. "Should anything go wrong or should they need technical assistance, the expertise that have gone into developing the products should be able to answer any query and solve most problems."