New Tetraploid Ryegrass
28 Feb 2014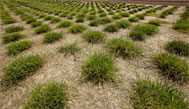 A new Tetraploid Perennial Ryegrass has been adde to our range
4TURF is a unique new turf type Tetraploid perennial ryegrass bred specifically by DLF Trifolium for rapid establishment and unique stress tolerance, not to be confused with standard Tetraploids.
Properties:
4 Turf tetraploid Perennial ryegrass has very good wearing qualities and germinates quickly. Exceptional tolerance to a broad range of environmental stresses. Increased chloroplast and chlorophyll production for improved nitrogen efficiency and deeper colour throughout the seasons. Enhanced root development, stronger and deeper root system.
Significantly increased disease resistance to fusarium, leaf spot and red thread. The species is a highly suitable mixture partner for sports turf thanks to its slightly more open nature & because of its rapid establishment in a range of conditions.
Benefits:
Rapid establishment

Excellent mixture partner for our hard wearing diploid varieties

Improved disease resistance (Fusarium, Red Thread & Rust)

Improved colour

Improved drought tolerance

Deeper rooting

Improved nitrogen efficiency

Improved winter hardiness
The new Tetraploid will now be included in our Aitkens SR Grass Seed Mix