New laws for the application of pesticides
11 Apr 2014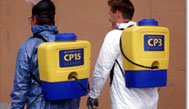 In November 2015 there are going to be some major changes that will affect anyone applying Plant Protection Products.
These changes fall mainly under two categories, which we have tried to highlight below for you:-
Application Of Pesticides
In the UK there has been an exemption in the law that allows users of professional products born before 31st December 1964 to use and apply pesticides (Grandfather Rights). They have been allowed to do this as long as they have carried out their application on their own land or by approval of the lands owner in the case of Golf Courses, Bowls, and Cricket Clubs etc.
This is now coming to an end on the 26th November 2015 with the Plant Protection Products (Sustainable Use) Regulation 2012. When this regulation comes into force users of professional products will be required to hold a certificate of competence before the use and application of products.
This will be challenging for smaller Cricket and Bowling Clubs so it will be advisable to start looking at training before the deadline looms at the end of next year.
The types of training required such as the PA1 & PA6 are the most common types required. These courses can often be found at local Agricultural / Horticultural colleges and by private training companies. The link below can help point you in the direction of local providers:-
http://www.nptc.org.uk/qualificationschemedetail.aspx?id=474
Once the November deadline has passed it will be an offence for anyone to use and purchase professional products that does not have such a certificate of competence.

Sprayer Testing

It has also been deemed necessary to bring in regular sprayer testing to help improve the accuracy of pesticide application. This will help identify problems such as worn nozzles and hoses, damage to sprayers and faulty gauges.
The changes in law will require you to have application equipment tested before 26th November 2016. Subsequent testing will be required every five years from 26th Nov 2016; and every 3 years from 26th November 2020. Granule applicators and boom sprayers less than 3m wide need to be tested every 6 years. Knapsacks and handheld equipment should be regularly checked against a checklist and a record kept although no independent testing is required.
The current National Sprayer Testing Scheme (NSTS) can help identify qualified testers who can arrange for testing off or on site. The link below can help point you in the direction of local providers:-
A useful information sheet can be downloaded by clicking on this link.