John Robertson (1949-2014)
06 Nov 2014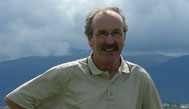 It is with great sadness that we announce the death of our friend and former colleague John Robertson.
John died on Tuesday 4th November in Ninewells Hospital following an illness. His funeral will be at Dundee Crematorium on Tuesday 11th November at 2.45pm.
John joined Aitkens in 1987 after a career in horticulture working for Dundee Parks
Department, Vitax and Rembrand.
As sales manager for Richard Aitken (Seedsmen) Ltd, John was responsible for golf course sales in the East and North East of Scotland. He had looked after many of the prestigious courses in that area and will be fondly remembered by many greenkeepers. He also looked after the sales staff for the company and was heavily involved at Scotsturf and BTME exhibitions over the years.
John was a one of a kind, he always had a story to tell which ended up with everyone in his company rolling around in laughter. It was never a short story, they would always involve actions and accents, he was a true comedian.
John had just retired at the end of January 2013 after 25 successful years of service with the company.
John will be greatly missed and all at Aitkens along with many of his former customers, will wish Roz and the rest of the family all our condolences.