Merit Turf - Revocation
23 Apr 2015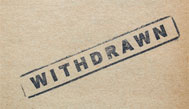 Merit Turf (MAPP 12415) has had its approval revoked by CRD
It has been announced by Bayer that Merit Turf Insecticide has been revoked.
This Withdrawal allows sale and distribution of existing stocks by any person to continue until 31 October 2015.
Disposal, storage and use of stocks by users may continue until 31 October 2016.
Full details can soon be found on the CRD website.
Please contact us if you need any.