Nutri-Pro aids Keepmoat pitch in marathon multi-sport season
27 Apr 2015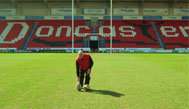 Award Nutri-Pro and Quadrop makes the difference at Doncasters Keepmoat Stadium...
James Davison, Head Groundsman at the Keepmoat Stadium, Doncaster, has been using Award Nutri-Pro along with Quadrop to keep the turf in great condition during a season where it is being used by four different teams in two different sports.
Between the start of the season and March 20th Davison and his team of two assistants have had 55 games on the pitch played by Doncaster Rovers FC, Doncaster Rovers Belles and Rugby League teams Doncaster Dons and Sheffield Eagles, who often play their games as part of double headers.
The number of matches could go up by as many as 30 depending on how each team performs in their individual leagues, but with so many games on a consistent basis they don't get the luxury of time to help the sward recover.
With such a heavy schedule and varying areas of damage from the two sports he needs strong turf and quick recovery between fixtures; with the combination of Nutri-Pro and Quadrop doing exactly that.
Nutri-Pro increases the performance of the leaf and root uptake, encouraging deeper and healthier rooting while it contains amino acids that improve stress resistance, which is all vital for a surface that faces so much damage from rugby league and football on a constant basis.
"Time is a great tool for repairing damage, but we don't get that," explains Davison.
"It's not only Doncaster Rovers that play at this stadium, this season we have all the other local teams, who are here until their new stadium gets built at Don Valley, so it's quite testing."
"We are always preparing for the next game; we don't get weeks and fortnights in between fixtures to rest the grass because we are moving from one sport to the other in the space of a weekend."
"The combination of the Nutri-Pro and Quadrop really benefits us in between games because it helps a lot with the recovery and stress resistance, which you need when you have so many games in a season."
He adds: "The Aitkens products have really helped the surface this year along with us as a team."
Davison, who has been in charge at the Keepmoat for one-year, enlisted the help of Aitkens
when he took over with Technical Representative James Stevens providing him with all the information he required to prepare for a tough season.
Despite not having used Aitkens before, the Head Groundsman was impressed by the guidance offered and soon regarded Stevens as a valuable member of his team.
"We invited James in and he took soil samples to find out what the pitch needed and looked at any deficiencies that were flagged up from the sample", he explains.
"We then worked out a twelve-month programme and we have stuck to it rigidly."
"We use Quadrop every day because it's a repair tool to help correct our water and help hold turf colour and it does a great job. It has alleviated a lot of the problems we've had in the past."
"We get a lot of shade in the stadium and we try and spike that area at least once a week because that's where we get the most problems, so by spiking and using Quadrop it helps to clear the surface as well as having other benefits, by using it alongside the Nutri-Pro you get the desired effect."