Aitkens Sportsturf Ltd Celebrate 25 Years
19 May 2015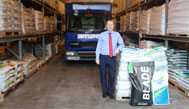 This year Aitkens Sportsturf Ltd celebrates their landmark 25 years of delivering quality products and great service......
to a vast range of their customer base, which includes championship golf clubs, county cricket grounds, premiership football clubs and top quality race courses.
Richard Aitken formed Aitkens Sportsturf Ltd in Tadcaster, North Yorkshire in 1990. The company has expanded rapidly keeping true to its motto "The Growing Company", continues to flourish and combined with the company Richard Aitken (Seedsmen), which was formed in Glasgow in 1963, has over 50 years' experience in this field of supplying the sportsturf industry in Scotland.
In fact the product portfolio now covers over 919 products including granular and liquid fertilisers, grass seeds, pesticides, seaweeds, line marking liquids, irons and wetting agents, all distributed from a purpose built 14,000 square feet of central warehousing in Sherburn-in-Elmet, N. Yorks.
Richard Aitken's son, also called Richard, runs the Sherburn operation and is very proud to acknowledge their achievement.
"Our success through some difficult economic times is a testament to the strong foundations laid down by my father and the determination and hard work from the whole team", says Richard.
We have all put in tremendous effort to stay ahead of our competition and look forward to continuing our current path for many years to come".
Aitkens are also main distributors for companies such as Barclays, Bayer, Everris, Ruffords, Terralift and Vitax to name a few.
In recent years Aitkens have launched its own brand; the Award range incorporates unique fertilisers both granular and liquid, a wetter that incorporates a rootbooster, novel range of liquid irons, which have been developed to be the best in the market. This range is set to grow rapidly in the future.